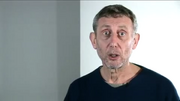 The Michael Rosen's Rosen-less Collab 2 was the sequel to the The Michael Rosen's Rosen-less Collab hosted by The Imperial Phantom Menace. The main objective of the collab was still to produce an entry with a story where Michael is not present but the characters in his poems take over as a central stage. This rule was tweaked to be that Michael wasn't a centric part of each entry but as a cameo or line.
Entrants (Reloaded List)
Edit
The Imperial Phantom Menace (Three Entries).
Amy Pond
TLOZ&SonicUltimateFan (Partnered up with The Imperial Phantom Menace)
Unlike the original, all of the entries were watermarked. This was so no-one would make the same mistake as the original collab entrants did.
The collab was seven minutes at it's original length and then nine and fifty seconds with the Re-loaded version.
Two people were left out of the collab, OlderRosen In Florida and Lovetoymonkeys22 who did not do their entries. Lovetoymonkeys22 dropped out because he signed in too late, OlderRosen In Florida did message saying to do an entry but he then told Imperial that he didn't want to make an entry.
Imperial has said that he might return to do the third one in 2016, but he later scrapped it.
Imperial will be rebooting for late 2017, hopefully to rectify the original. If this succeds, this will be the THIRD time the collab will have been produced.