If you were looking for the article about the best friend of Michael, then see Harrybo.
"GOTOBEDGOTOBEDGOTBEDGOTOBED" - Brian Rosen in Babysitter
Brian Roy Rosen
is the older brother of
Michael Rosen
by four years. Brian has been mentioned in several of Michael's poems.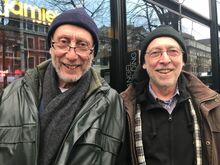 He worked as a paleontologist at the Natural History Museum.
[1]
[2]
Brian's second Twitter profile
Known things about Brian.
Edit
He hates babysitting Michael.
He is older than Michael by four years.
Michael thinks he is a funny guy and was always like a third parent to him. [3]
↑ http://www.nhm.ac.uk/research-curation/science-facilities/cahr/projects-partnerships/museum-lives/database/index.php?request=browse&irn=1983
↑ Michael Rosen: Why curiosity is the key to life https://www.theguardian.com/lifeandstyle/2014/sep/06/michael-rosen-curiosity-is-the-key-to-life